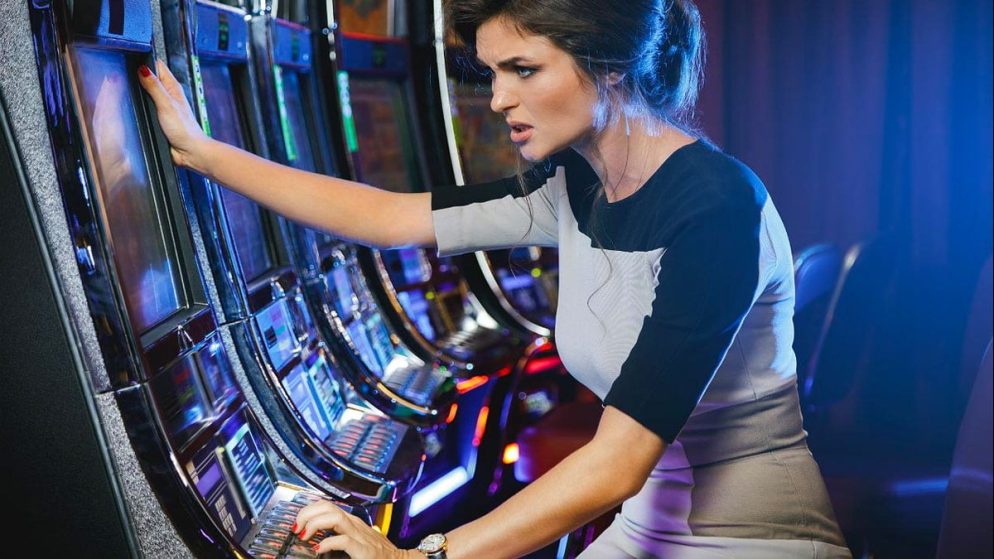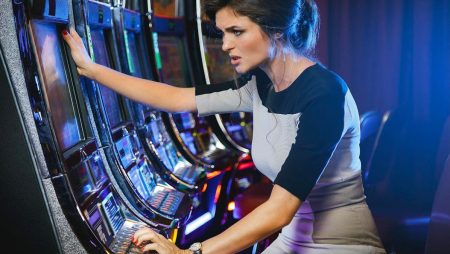 All casino games (including video slots) are designed to cause long-term losses, so it is quite normal to lose money playing them. How can this be? Because there is always some "house edge" involved.
Nevertheless, when playing online slots there are bound to be periods when you get lucky and win some money (sometimes even a lot).
When you spin the reels of slot machines and get nothing but zero on your balance, you should probably think about these things: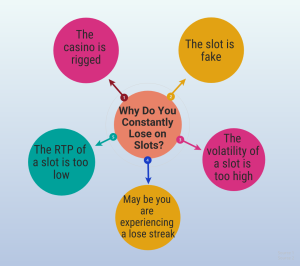 Here are some reasons why you might keep losing at online slots:
There is a possibility that a casino is rigged;
There is a possibility that an online slot is rigged;
Slots with low RTPs;
There is a possibility that a slot has too much volatility;
It may be that you are experiencing a period of bad luck.
Now let's take a closer look at each scenario.
Rigged casinos are possible
I guess it's unnecessary to elaborate further as it should be crystal clear that you have zero chance of winning when playing against scammers in the online casino industry.
Rigged casinos show the following signs:
There is no license for a casino;
Casinos promote gambling as a source of income;
Bonuses and promotions that seem too good to be true;
Website that looks unprofessional and clumsy;
Casinos constantly bombard you with "unbelievable" offers;
Underage players are not a problem for casinos;
Casinos do not accept reputable payment methods (Visa, Mastercard, etc.).
You might find it difficult (especially for a beginner casino player) to determine whether an online casino is rigged or legit. If this is the case, you can use this ranking of safe online casinos instead.
It has been reported that some online slots have been counterfeited (fake slots)
If you are playing fake slots, you should be aware that they look very similar to the original, but are completely rigged.
There has been a drastic change in the RTP (return on investment) of a licensed (original) game to the point where it has become absolutely horrible. For example, the original had a RTP of 96,5%, while the fake version might have a RTP of 50% (or even lower).
Unlike RNG (random number generator), the outcomes of fake slots are predetermined, preprogrammed so that you can only lose.
Playing fake video slots gives you no chance of winning.
The RTP (return on investment) of some online slots is terrible
There is a wide range of RTP coefficients for online slots. Why does it matter? Because a slot's RTP determines how well the slot will pay out.
You may think it doesn't matter, but it matters a lot. Even legit (licensed) slots can have RTPs as high as 98%+ or as low as 90%.
Consequently, if you are playing low RTP slots (90% or lower), then it definitely has an impact on your winning probabilities.
A low RTP online slot basically ensures that you won't withdraw money.
List of online slots with the highest RTP (return on investment)
There is a possibility that you are playing slots that are extremely volatile
The volatility of a slot can also differ from one game to another. What does volatility mean?
Slot machines with low volatility tend to produce smaller winnings while their highest prize is relatively low.
However, high volatility slots come with long losing periods during which you cannot win anything whatsoever (for example, you could win up to x100,000 of your bet).
When playing highly volatile slot machines, you shouldn't be surprised if you don't win for a very long time.
Losing streaks can sometimes last for a long time
If you are playing medium or even low volatility slots, it doesn't guarantee that you won't have really long losing streaks.
Thus, the reason you constantly lose playing online slots can be very simple. You are just unlucky at the moment.
Play more if you are sure the casino is not rigged, the slot is not fake, the slot has a decent RTP and the slot is not extremely volatile, and soon you will inevitably get good luck on your side.
Final thoughts
It should definitely set off an alarm in your head if you are unable to win for a long period of time, especially at a particular online casino or video slot. The article hopefully taught you something new, so scammers won't be able to take advantage of you as easily.
Read the News and Articles section on Bonus Hunting to keep up with the latest news in online gambling.