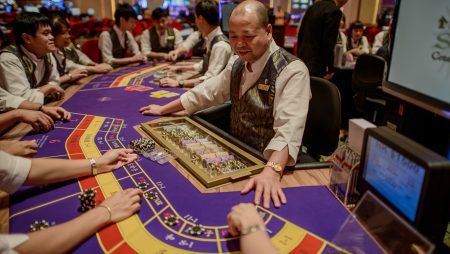 The Macau government raked in a staggering 5.70 billion Macau patacas ($706.4 million) in gaming tax revenue in May alone, marking a remarkable 15.2% increase from April. The city's Financial Services Bureau unveiled these impressive figures on Monday, reflecting the thriving gambling industry.
In the span of five months leading up to May 31, the government accumulated an impressive sum of nearly 20.77 billion patacas in gaming taxes, showcasing a remarkable 83.6% surge compared to the previous year. With Macau's recently implemented 10-year gambling concession system, effective from January 1, the casinos are subjected to a 40% tax on gross gaming revenue (GGR). This significant increase in tax revenue highlights the thriving gambling industry in Macau.
The gross gaming revenue (GGR) of Macau casinos reached an impressive 15.57 billion patacas in May, marking a 5.7% increase from the previous month's 14.72 billion patacas. This growth trend continued for the third consecutive month. Over the course of the first five months of 2023, the cumulative casino GGR amounted to a remarkable 64.93 billion patacas, exhibiting a staggering 172.9% surge compared to the same period last year. These figures demonstrate the thriving performance of Macau's casino industry.
The comparison between tax revenue figures and the gross gaming revenue (GGR) of city casinos in a specific calendar period is not straightforward due to several factors. One crucial factor is the delay that typically occurs between the recording of GGR in Macau casino operations and the subsequent recording of tax payments by the Macau government for such gaming activities. This time gap creates a disparity in the timing of these financial measurements, making a direct comparison challenging.
The Macau government has previously projected the city's flourishing casino gaming revenue (GGR) for the year 2023 to reach an impressive milestone of 130 billion patacas. As per the meticulously crafted government budget plan, the anticipated gaming tax revenue for this fiscal year is expected to soar above the remarkable figure of 50.85 billion Macau patacas. It is worth noting that the revenue generated in the initial four months showcases a promising start, accounting for approximately 40.8% of the projected amount, laying a solid foundation for the city's economic growth.
Read the News and Articles section on Bonus Hunting to keep up with the latest news in online gambling.