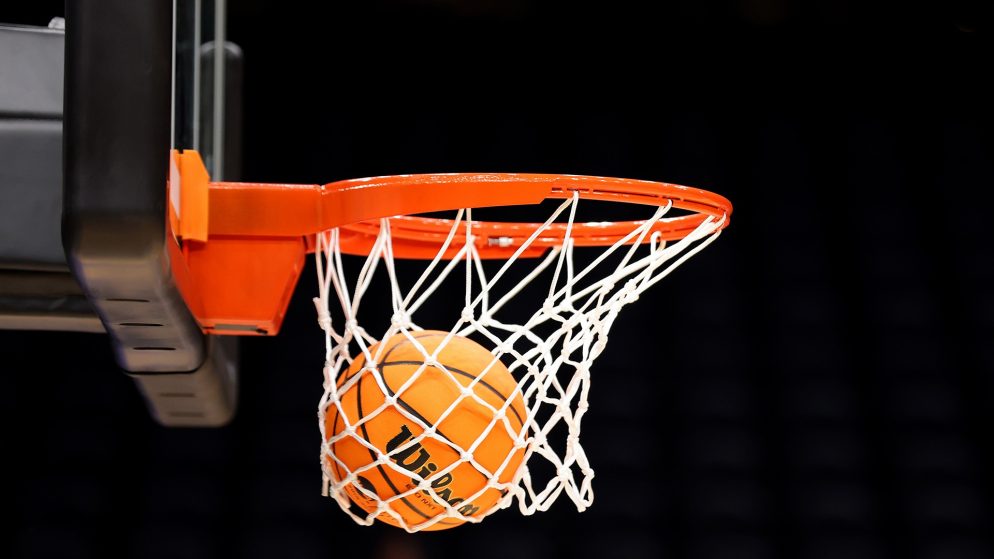 Basketball, a globally popular sport, surprisingly lacks attention from slot developers. There are only a handful of basketball-themed slots, with few notable new additions. This review delves into these limited options in the world of basketball-inspired slots.
Basketball Star
Experience the thrill of being a basketball star with Microgaming's popular game, Basketball Star. The game immerses players in a realistic setting, featuring a vibrant sports stadium with cheering fans. The authentic sounds of shouts and applause create an immersive basketball world for players to enjoy.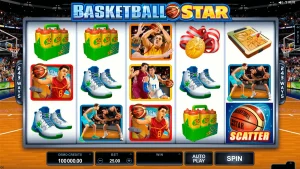 Experience the benefits of playing Basketball Star:
Vibrant and colorful design that catches the eye.
Engaging sound effects that enhance the gameplay.
Pleasant graphics that create an appealing visual experience.
Detailed animations that bring the game to life.
How to play?
Engaging with Basketball Stars is effortless, requiring no additional knowledge or skills. Simply familiarize yourself with the key rules, and you're good to go! The user-friendly control panel, positioned at the bottom of the screen, includes buttons to initiate reel spins, adjust sound settings, and enhance graphic quality.
To begin playing, the player needs to select the desired number of active lines. Opting for a complete set of lines increases the chances of success, as each line is wagered upon. Upon clicking the start button, the reels commence spinning, and the screen reveals potential winning combinations.
Nothing But Net
Nothing But Net has been present in the online gambling market for quite a while now, making it far from a new release. Developed by the renowned manufacturer Cryptologic, this basketball-themed slot machine offers thrilling gameplay features, a variety of bonus incentives, wild symbols, and scatters. The game is played across five reels and nine paylines, with a line bet ranging from ten cents to five dollars.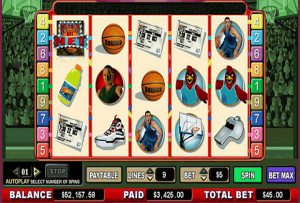 The machine offers several advantages, including:
Stunning graphics that create an immersive experience.
An intuitive and user-friendly interface for seamless gameplay.
The opportunity to win free spins, adding excitement and increasing potential rewards.
How to play?
To receive a payout, players need to form a winning combination consisting of two or more identical symbols that are adjacent to each other on an active payline. Payouts from multiple paylines are combined for bigger wins.
Slam Funk
Microgaming, the online scratch card provider, offers numerous advantages that make the game highly appealing to gamblers.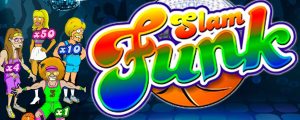 Slam Funk offers several advantages, including:
Exciting storyline.
Vibrant and captivating cartoon-style graphics.
Immersive sound effects.
User-friendly interface.
How to play?
Participating in the instant lottery is straightforward: players scratch off the protective field and if three out of the nine symbols match, they receive a payout. The playing field is on the right side of the screen, while famous basketball players and their corresponding payout coefficients are depicted on the left side. The minimum bet is 0.5, and the maximum is capped at 10. Higher bets lead to higher payouts. The control panel conveniently displays all relevant indicators, allowing players to easily manage their expenses and monitor their balance.
Slot Dunk
Pragmatic Play's popular slot game, released in 2012, revolves around an extraordinary basketball match featuring wild animals. The tournament showcases a tiger, an elephant, a crocodile, and a monkey as the main competitors, with hippos enthusiastically cheering them on as fans. The ultimate goal? To claim the coveted trophy.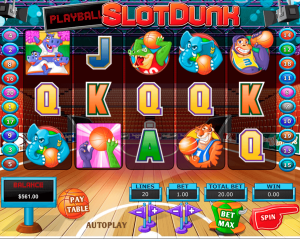 Slot Dunk offers several advantages for players to enjoy:
Impressive graphics and captivating animations enhance the visual experience.
Engaging music and sound effects create an immersive atmosphere.
Free spins provide additional opportunities to win.
Jokers and scatters add excitement and increase winning potential.
Exciting prize rounds offer thrilling gameplay moments.
How to play?
Once the game is loaded, you'll encounter three icons: Spin, Gear, and Return. With a total bet of $0.20, you can dive straight into the gameplay. Alternatively, tap the Gear symbol to access the settings screen for further customization.
Adjusting the total bet is as simple as using the left and right arrows, allowing you to choose between $0.20 and $100. Before diving into gameplay, it's advisable to consult the payout table, which provides comprehensive information about every aspect of the game. Familiarizing yourself with it beforehand ensures a smooth and informed gaming experience.
Conclusion
The appeal of these games to genuine basketball enthusiasts remains a question. However, each slot boasts extensive features and engaging gameplay. Some even provide a demo version, allowing players to get a sense of the game without any financial commitment. Given the timeless relevance of sports themes, these sports-themed slots enjoy immense popularity among both novice and seasoned players.
Read the News and Articles section on Bonus Hunting to keep up with the latest news in online gambling.